Driving should be a comfortable experience rather than a tiring one, no matter what the distance is. Statistics in the USA and Canada reveal that back pain frequency among drivers is 1.6 to 2.0 times the reference prevalence. There is no doubt that a long drive can cause excruciating lower back pain, tailbone pain, or Sciatica. Car cushion seat is the best option to relieve you from pressure sores and excessive pain caused due to a long drive.
There are plenty of options to buy, and we have picked some of the best products in the market. Exclusive orthopedic-grade products are suggested below and never forget to notice the tiny details like color, material, and even the bounce of the cushion. Be a wiser driver and purchase a well-built and ergonomically-designed car cushion seat. After a thorough analysis, we have given below the best 10 cushion seat products to look at.
Without a doubt, this is one of the best seat cushions for a long drive when you base it on many reviews from users. This seat pillow can help you feel a difference during a long drive, provides extra comfort, healthy weight distribution, relieves pressure sores, and provides proper posture and spine alignment. Obviously, it's not just for long car drives, but also great for office chair cushion and for any other furniture that requires ample back support cushion. This seat cushion neither lets you slouch nor make you feel sinking inside, providing proper posture during your drive.
This product brags of superior comfort while providing relief from back pain and promotes general well-being. Whether you use it in your car, home, or office, Aylio Seat Cushion is always a better choice.
Key Features
A coccygeal groove that takes the pressure of while sitting
Washable, removable, zipped cover
Soft and conforming cover
3-inch thick premium foam
ComfiLife Premium Seat Cushion is one of the best lumbar cushion seat products explicitly focused on individuals who might have Sciatica or lower back pain. This product boasts of premium quality, highly-dense memory foam, and optimum coccygeal support for your long drive. This product features a non-slip bottom, built-in handle, and a machine washable cover.
It has a handle so that it could be portable wherever you go, provides an ample amount of comfort during your drive, and transforms your usual office seat into one comfortable deluxe seat. When it comes to buying the best car seat cushion, you can always trust ComfiLife Premium Seat Cushion.
Key features
High-density memory foam
U-shaped design with a coccygeal groove
Washable and removable velour cover
Integrated handle for carrying
Non-skid bottom
Features a modest-design, removable and washable cover. DanSan is made with additive less memory foam and is one best choice to buy for those who want to have a not-so-thick cushion.
Unlike other products that have a 3-inch foam, this product has only a 2.4-inch support foam. This plush cushion doesn't lose its shape despite the weight of the person who uses it. The advanced memory foam molds perfectly to shape by responding to the heat of the user. This product can be used to relieve from lower back pain and tailbone pain during a long drive or while sitting in the usual office work for a prolonged time.
Key features
Coccygeal groove like the other auto cushions
Comparatively lower cost
2.4 inches thick advanced memory foam
Non-skid bottom
Maximum weight handling capacity – 300 lbs
With a combination of Orthopedic memory foam and activated bamboo charcoal core, the Cylen Orthopedic seat cushion is featured for those who wish to have a touch of eco-friendliness. The 3.1-inch seat bag is a lot firmer and more comfortable too!
The state of art memory foam with a coccygeal cut-out provides a quality seating comfort during a long drive and a pain relief experience. Bamboo charcoal infusion in the core provides superb ventilation ability, unlike other regular products, and stabilizes the temperature. The cover is designed to make sure that there is maximum airflow inside and includes a non-slippery feature.
Key features
Bamboo charcoal infusion in core
3.1-inch Orthopedic-grade memory foam
U-shaped coccygeal cut-out with a non-skid bottom
Durable, washable cover with an integrated carrying strap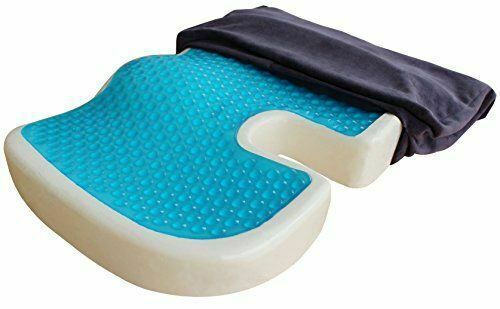 Either you are pinned to the car seat during a long drive or driving through a quicker distance, TravelMate's Memory Foam Cushion is designed to be available in your hand anywhere, anytime! Unlike the regular car cushion seats, TravelMate has designed a hybrid gel/memory foam seat cushion that is not only for cars but can be stay put on multiple chairs or seat surfaces.
Think your comfy sofa cushions; It's made from furniture-grade foam, with a layer of memory foam as well. The gel seat cushion rebounds in shape if you spend sitting on your car seat for a long drive, making you feel comfortable. The bottom pad has silicone grips, and there is no need for additional straps to make it sit in place.
Other best features include built-in channels for effective air circulation, integrated carrying handle, and all these features come at a much lower cost!
Key features
Furniture-grade hybrid gel/memory foam
Airflow channels
Integrated carrying handle
Durable, removable and washable cover
Coccygeal space and Built-in handle
Though its design is unusually stylish, unlike the other brands, it is called ah Clever Yellow Car Seat Cushion because it's designed with 3 layers of different materials to improve one's posture during a long drive. The coccygeal cut-out is designed to relieve lower back pain and Sciatica while traveling. The base is designed with a molded Clever foam core along with ventilated mesh material and is deliberately firmer than expected.
The cushion elevates the car seat level and provides an ample amount of support while making your seat flat. It also comes with an integrated strap to buckle it up with your car seat and a handy bag to carry it out.
Key features
3-inch seat with coccygeal cut-out
Adjustable buckle strap
Three layered cushion design with moulded clever foam
Durable, washable and removable cover
Crafted with ultra-premium memory foam with more gel coverage than any other cushions, Keiba Coccyx Seat Cushion provides ultimate comfort and support during your long drive. This is an exceptional tool for Sciatica and lower back pain and would never lose its shape after repeated use.
The non-slip bottom makes sure that the cushion doesn't slide out of place even after prolonged use. It comes with a durable, removable velour cover and is machine washable. The product is made of 100% therapeutic grade memory foam and provides proper posture, spine alignment for hours of comfortable sitting.
Key features
Ultra-premium memory foam
Integrated soothing gel technology
Non-skid bottom
Removable and washable velour cover
The Xtreme Orthopedic Memory Foam Seat Cushion is ergonomically designed with a doctor-referred U-shaped cut-out creating a comfortable space while driving. The product is made with premium quality Body Active Memory Foam and its contour surface design distributes body weight across the seat, relieving the pressure points in the tail and lumbar region and never goes lumpy or flat.
The durable nylon mesh cover provides superior air circulation, breathability, and stands up for more prolonged use. Its new and improved non-skid bottom keeps the cushion in place on all seating surfaces.
Key features
Premium quality Body Active Memory Foam
Unique and comfortable design
Durable, breathable and washable nylon cover
Non-skid bottom
This is a firm automotive wedge-shaped cushion explicitly designed for cars and long drives. It's the best choice for those who would find themselves sinking in the car seats and could not have a good view of the road during a long drive. The memory foam recipe is contoured into an auto seat pad, and the result is an unparalleled experience in comfort.
The therapeutic grade foam is designed after consultation with a board-certified physical therapist to bring the best product. The product comes with a coccygeal cut-out to remove pressure sores along with a durable and washable cover.
Key features
Cut-off tailbone section
Physiotherapist-designed memory foam
Non-skid bottom
Removable and washable cover
The Edealyn Cushion Seat Pad is the best way to improve the aesthetics of your car seat and looks more or less like a mat. It is made with a combination of PU leather along with activated charcoal and memory foam as its padding. The product fits most small and midsize vehicles and has a pouch to store small items.
This is one of the best car seat cushions for an affordable and more stylish way to ride comfortably. Other features include non-slip rubber-soled, bottom pad, plastic chucks, and metal hooks to hitch under your car seat.
Key features
Combination of PU leather, activated charcoal, and memory foam
Non-slip rubber-soled bottom pad
Plastic chucks and metal hooks
The main idea of putting a car seat cushion behind during a long drive is for comfort. Car seat cushions relieve pressure in your body and maintain a healthy posture. It can help you provide a comfortable ride, especially when you are driving several hours at a time. There are some seat cushions with integrated heat elements. They are a perfect choice for individuals to stay warm and comfy during colder climates.
Editor's choice for good read
Picking the right car seat cushion is more crucial so that you can concentrate on the road during a long drive and not on the pain that causes discomfort. With the list of best car seat cushions, you would get an idea of buying the most suitable one for you.
Stay tuned for more exciting content on cars and its tech-related news from TheCarsInsider.